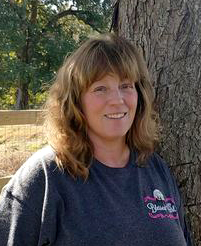 Becky Brooks is an American artist living and working in Frisco City, AL. A native of Champaign, IL, her oil paintings are inspired by her beliefs and scenes from everyday life. "Art is my language used to communicate how I see God's creation. I'm drawn to strong natural lighting and the depth of color it reveals as it falls on a subject." This depth and range of color revealed by strong light and shadow is a distinct quality of Becky's work. She engages the viewer with a sense of narrative as well as filling the canvas with brushstrokes that tell a story of their own.

After earning a BFA in Art Education from the University of Illinois, Becky went on to enjoy a 25 year teaching career. She remained active in the art scene, and since renewing her passion for painting in 2014 has shown her work in galleries in Illinois, Florida and Alabama. She also creates commissioned drawings and paintings for clients throughout the country.

Becky shares her life and studio with artist husband Alan Brooks and is honored to exhibit her work at Black Belt Treasures in Camden, AL. She is a member of the National Oil & Acrylic Painter's Society and continues to share her love of the arts with children via virtual art classes.